Control of Nematodirus spp. infection by sheep flock owners in Northern Ireland
Irish Veterinary Journal
Iris Tréidliachta Éireann
2017
70:31
Received: 30 January 2017
Accepted: 10 October 2017
Published: 19 October 2017
Abstract
Background
To address a lack of information on the control of ovine helminth parasites in Northern Ireland (NI), a number of research projects have been undertaken, dealing with gastrointestinal nematodes, tapeworms and liver fluke. This investigation concerns Nematodirus and concentrates on three aspects of disease: farm management strategies for its control, derived from the results of a Questionnaire; the efficacy of treatment used by farmers, as determined by a coprological survey; and the hatching requirements of Nematodirus eggs, that is, whether prolonged chilling is a pre-requisite for hatching.
Results
A Questionnaire was sent to 252 sheep farmers in NI in March 2012 (covering the years 2009–2012) and replies were received from 228 farmers. Under-dosing, inaccurate calibration of equipment and inappropriate product choice were poor practices identified. Following this survey, the efficacy of treatment of Nematodirus spp. in sheep flocks was evaluated in April and May 2012. Sampling kits were sent to 51 flock owners, all of whom returned pre- and post-anthelmintic dosing faecal samples to the laboratory for analysis. At the time of treatment, 41 flocks were positive for Nematodirus (as diagnosed by the presence of eggs). Reduced benzimidazole efficacy was detected in 35.7% of flocks tested (n = 28). Although only involving a small number of flocks, reduced efficacy of levamisole treatment was detected in 50%, of avermectins in 33% and of moxidectin in 75% of flocks tested (n = 2, 6 and 4, respectively). In the egg hatch experiment, carried out under "chilled" and "non-chilled" conditions, 43% of the eggs in the "non-chilled" group were able to hatch, compared to 100% in the "chilled" group.
Conclusions
The identification of inefficient control strategies argues for continued education of stockholders, in order to improve their management programmes. This is particularly important where the practices might impact on the development of anthelmintic resistance, which has been shown to exist on NI farms. The appropriate choice of anthelmintic is a vital part of this plan. The ability of eggs to hatch under non-chilled conditions demonstrates a flexibility in hatching behaviour. This may represent an adaptation to climate change and account for the recent emergence of a second, autumnal peak of infection.
Keywords
Nematodirus spp.SurveyQuestionnaireNorthern IrelandFaecal egg count reduction testEgg hatch behaviour
Background
In relation to published data on the control of helminth parasite disease in livestock, historically, Northern Ireland (NI) has lagged behind the rest of the United Kingdom (UK) and the Republic of Ireland (ROI). There is little information on topics such as the epidemiology (and changing pattern) of disease, the prevalence of disease, the level of anthelmintic resistance (AR) in parasite populations and what management strategies are in place to control disease. This is surprising, given that the NI economy is more dependent upon agriculture than any other region of the UK, as seen through its share of the economy, employment and business base [1]. The gross value added (GVA) of the combined Agriculture and food/drink processing industry was 3.5% to the GVA for NI, and employment was 6% [2]. Beef and sheep meat encompass the largest sector of the Agri-Food industry: £394 m and £63 m was accrued from finished cattle and finished sheep in 2015, respectively [3]. The gathering of data in relation to parasitic diseases is of vital importance to the design and development of effective and sustainable programmes for parasite control. That is, programmes that will enable farmers to maximise animal welfare and productivity, yet will mitigate dependence on drug use, and thereby serve to slow the progression of AR.
The results of some recent studies on ovine helminth parasites in NI have begun to fill in the gaps in our knowledge. Climate change has been shown to have altered the seasonal pattern of some diseases: for example, an extension of the traditional transmission window for trichostrongylosis/teladorsagiosis; the emergence of a second, autumnal peak in Nematodirus spp. infection; and a shift in chronic fasciolosis to earlier in the year [4–6]. A coprological survey carried out in July–October 2011 provided information on the prevalence of AR in gastrointestinal nematode infections in sheep [7]. A Questionnaire survey (conducted between May–September 2011) examined patterns of anthelmintic drug use and the effectiveness of management strategies in place to control the diseases [8, 9]. However, the timing of the coprological survey in 2011 precluded the collection of data in relation to Nematodirus spp.
In sheep flocks in the UK and elsewhere in Europe, also Canada and the Rocky Mountain States of the USA, the most common aetiological agent of nematodirosis is Nematodirus battus [10]. While Nematodirus helvetianus, N. filicollis and N. spathiger have been noted in mixed infections in these areas, they are considered to be more common across Australasia. Nematodirus spp. are considered to be atypical among trichostrongylid nematodes as a result of their long generation time, development to L3 larvae within the egg and (presumed) requirement of a period of chilled temperatures, followed by a sustained daily average temperature of 10 °C or more before hatching will take place [11, 12]. Nematodirosis is predominantly a disease of young lambs in the Spring; immunity develops quickly [13] and this results in adult stock playing a negligible role in epidemiology [14]. N. battus infection is an important cause of clinical disease (resulting from scouring and reduced weight gain) and fatality in young lambs in spring, following the mass hatch of infective L3 larvae [15].
Relatively little is known about nematodirosis in NI. Diagnoses of nematodirosis (as a percentage of all ovine submissions to the Agri-Food and Biosciences Institute (AFBI) in NI and The Department of Agriculture, Food and the Marine (DAFM) Laboratories in the ROI) were 16%, 11% and 16% higher in NI than the RoI in 2013, 2014 and 2015, respectively [16–18]. In terms of the percentage of all ovine endoparasitic disease, nematodirosis in NI stands at 22%, compared to 27% for PGE (caused by other trichostrongylid nematodes); for the ROI, the figures are 6% and 52%, respectively [18]. The data suggests that nematodirosis is more prevalent in the North of Ireland than in the South.
It has been shown that up to ~70% of all deposited eggs will hatch without the chilling stimulus [19] and it has been suggested that the phenotypic plasticity in N. battus hatching behaviour represents a "bet-hedging" strategy that allows the establishment of "chilled" larvae in parasite-naïve lambs, supplemented by infection later in the season by larvae produced from "non-chilled" eggs [20]. In recent years, increasingly, outbreaks of nematodirosis have been seen later in the grazing season (or indeed in the Autumn) in older lambs [20–27]. This has already been reported for NI [4].
Control of nematodirosis is achieved through the use of anthelmintic drugs, most commonly benzimidazoles (BZs). In contrast to the situation in other trichostrongylid nematodes, there have been relatively few reports of AR in Nematodirus spp. In the Southern Hemisphere, oxfendazole resistance was found on a sheep farm in New Zealand [28], and Nematodirus spp. were found to be resistant to oxfendazole, thiabendazole and fenbendazole in a survey conducted on sheep farms in Australia [29]. Furthermore, a total of 8 isolates of BZ-resistant N. spathiger (with a small contribution to total parasite burden by N. abnormalis) were reported in Tasmania [30, 31]. More recently, BZ (albendazole) resistance has been demonstrated in N. spathiger and N. filicollis in New Zealand [32]. In the Northern Hemisphere, anthelmintic failure against N. battus has been reported in the UK and the ROI; in the UK, it was linked with (the impact of) "intestinal hypermotility on the pharmacokinetics of relatively insoluble drugs", rather than to AR per se [33]. Similarly, evidence for reduced efficacy of levamisole (LV) and macrocyclic lactone (ML) treatments has been observed in the ROI, with suboptimal dosing practices put forward as a potential explanation [34, 35]. Recently, a fenbendazole-resistant N. battus isolate was identified in Scotland [36]. A subsequent clinical efficacy trial and pyrosequencing analysis revealed a high frequency of homozygous resistant genotypes, demonstrating that the F200Y Single Nucleotide Polymorphism (SNP) may be a potential mechanism of resistance in Nematodirus spp. [37].
The overall aim of the current investigation was to obtain more information on ovine nematode disease control in NI, by focussing on Nematodirus. The study examined three specific topics: the efficiency of management practices in use by farmers, as gathered from the results of a Questionnaire; the efficacy of treatment of N. battus populations, as determined by means of a coprological survey; and the hatching requirements of N. battus eggs, that is, whether chilling is essential for hatching of the eggs. The results of the latter experiment may shed light on the underlying cause of the changing pattern of infection in response to climate change, a second, autumnal peak of infection having been identified previously [4].
Methods
Questionnaire
Following the analysis of data collated from a Province-wide Questionnaire survey in 2011, a supplementary set of questions was sent (in March 2012) to those respondents who farmed sheep. The supplementary questions were presented in 3 sections, namely, control of Nematodirus spp. (Section 1), control of ectoparasites (Section 2) and control of tapeworm parasites (Section 3). This manuscript is only concerned with the responses to questions in Section 1.
Statistical analysis of questionnaire data
Descriptive statistics, such as means and standard deviations, were calculated using Microsoft® Excel 2007.
Identification and initial characterization of ovine Nematodirus spp. present in Northern Ireland
N. battus eggs were identified in FECs on the basis of egg morphology [45], and this was subsequently verified on the basis of L3 morphology [46].
The evaluation of egg hatching behaviour followed the protocol of van Dijk and Morgan [19]. Embryonation was carried out at 20 °C. After 6 weeks, infective L3 larvae were visible in all eggs.
Species identification
Approximately 300 eggs were pipetted into a 2 ml Eppendorf tube and stored at 4 °C for 29 d, then transferred to a 13 °C incubator (Sanyo Incubator MIR-262; Sanyo Electric Biomedical Co. Ltd., Japan). At d 60, the eggs were stained in Lugol's iodine for 20 min, counterstained in 30% (w/v) sodium thiosulphate, and then the hatched larvae were examined microscopically for species identification [46]. N. battus was the only Nematodirus species detected.
Hatching behaviour
Faecal material remaining after the FECRT analysis was pooled from all the farms and so the data represents the NI population as a whole. The eggs were split equally into two groups: one group was maintained at 4 °C for 29 d (the "Chilled" group), while the other was kept at 20 °C for the same time period (the "Non-Chilled" group). The groups were then transferred to a 13 °C incubator. Plates were redistributed daily so as to minimise any effect of temperature flux within the incubator. The proportions of eggs containing larvae, and any larvae that had hatched, were counted on d 0, and hatched larvae were thereafter counted on d 3 and on alternate days up to d 41. In order to determine whether the counts on d 41 represented the maximum hatch, further hatching was checked on d 50, 55 and 60.
Results
Questionnaire results
A total of 228 completed questionnaires (from the initial 252 distributed) were received. This represents a return rate of 90.5%. The summary of questions posed and responses received is presented in Table
1
.
Table 1
The questions posed and potential responses to the questionnaire, together with the number (N) and percentage (%) of flock owners indicating the applicable response
Question

Potential Response

Percentage (number of respondents)

Do you treat specifically for Nematodirus spp. infection?

Yes

No

81.6 (186)

18.4 (42)

How is the decision made to treat the animals?

AFBI forecast

Faecal egg count

Presence of scour

Advice of veterinarian

Advice of other farmers

Same day annually

Dependent on weather

At turnout

At 6 weeks of age

As needed

19.7 (45)

7.9 (18)

47.4 (108)

14.5 (33)

53 (12)

23.7 (54)

6.6 (15)

1.3 (3)

5.3 (12)

5.3 (12)

Is every animal treated, or is only a percentage treated?

100%

<100%

97.4 (222)

2.6 (6)

How is the volume of drench determined?

Estimate individual

Group average

Heaviest in group

Weigh individual

40.3 (92)

10.2 (23)

48.2 (110)

1.3 (3)

Is the equipment checked before use?

Never

Sometimes

Always

17.3 (39)

52.0 (119)

30.7 (70)

Where is the product stored when not in use?

Fridge

Cabinet/Cupboard

Garage/Shed/Workshop

11.0 (25)

69.9 (159)

19.1 (44)

Is "best before" date checked before use?

Never

Sometimes

Always

8.0 (18)

29.3 (67)

62.7 (143)
FECRT
A total of 51 flock owners submitted pre-treatment faecal samples from their lambs in 2012. Of these, lambs from 41 farms had nematodirosis (as diagnosed by the presence of eggs) at the time of submission and sufficient volumes of faeces were submitted to allow the completion of the FECRT. The same 10 animals sampled at day 0 were sampled again at d 7 in 48 flocks. Within the remaining 3 flocks, only 9 of the initial 10 animals were sampled. In each case, the FEC of the replacement animal was out of character with the remainder of its dataset and was excluded from analysis. The pt. means for these 3 flocks were calculated from the remaining 9 animals. The influence that including these outliers within datasets had on efficacy calculations is summarised in Table
2
.
Table 2
The impact of omitting outliers from mean post-treatment faecal egg counts on the efficacy of drug treatment
Flock code

AnthelminticGroup

Unadjusted

Corrected

Mean ± S.E.M.

Efficacy (%) (C.I.)

Mean ± S.E.M.

Efficacy (%) (C.I.)

1

AVM

5.3 ± 5.3

94 (48, 99)

0 ± 0

100 (100,100)

3

BZ

6.7 ± 4.9

98 (90, 99)

0 ± 0

100 (100,100)

10

BZ

30.3 ± 30.3

90 (11, 99)

0 ± 0

100 (100,100)
On the basis of observed treatment efficacy alone (Fig.
2
), reduced efficacy of BZs was present in 35.7% (10/28) of flocks tested; of LV in 50% (1/2) of flocks tested; of AVMs in 33% (2/6) of flocks tested; and of MOX in 75% (3/4) of flocks tested. Reduced efficacy of AAD was not detected at the time of the survey.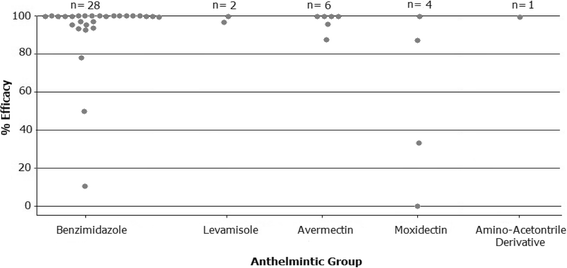 Hatching behaviour
After a period of 41 days, 43% of eggs in the "Non-Chilled" group were able to hatch, and no further hatching was observed following d 50 (data not shown). Within the "Chilled" group, 100% of the eggs had hatched by d 21, with the largest single increase between time points occurring between d 9 and d 11 (Fig.
3
).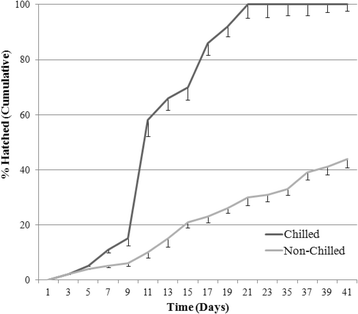 Discussion
The return rate for the Questionnaires was very high: 90.5%. They were distributed to sheep farmers who had participated in a previous survey and so were not randomly selected. This could be viewed as a limitation of the study. However, the farmers were respondents to an original, random distribution of Questionnaires to 1000 farmers in the province, and the sample size was of sufficiently large size to be meaningful, so this fact should not detract from the validity of the results. Moreover, it did allow us to monitor the same group of farmers with regard to the control of various helminth parasites: gastrointestinal nematodes, liver fluke and tapeworms [5, 8, 9, 47].
Conclusions
The results of the questionnaire survey on control of Nematodirus identified a number of poor control strategies, namely, inappropriate product choice, under-dosing and inaccurate calibration of dosing equipment. This highlights the need for continued education of flock owners and a greater awareness by them of the range of efficacies of those products that are available. An unsuitable choice of anthelmintic has implications, not just for control of Nematodirus, but for the development of AR in off-target species as well. In the short-term, the use of BZs over AVMs should be promoted for the control of nematodirosis, in order to reduce the pressure on the AVM group. Stockholders should also make better use of forecasting information and show greater vigilance in monitoring parasitic infections. They should be encouraged to submit samples for diagnosis to ensure optimal treatment timing and detection of AR. The early detection of AR would allow maximal time to implement effective control strategies aimed at reducing further development of resistance [57]. The results of the coprological survey have highlighted the problem of reduced activity of anthelmintics used to treat Nematodirus infections and this may indicate that AR exists in Nematodirus populations in NI. The latter requires more rigorous investigation before it can be confirmed. This is particularly true for LV, AVM and MOX, as only a small number of farms were involved in the present study and so the results should be interpreted with some degree of caution.
The results obtained in the hatching study suggest that a diversity of behaviours exists. This may indicate within-genotype variation in the chilling requirement and, as such, further investigations into the long-term effects of climate change on parasitism, flock health plans and anthelmintic use are warranted. The existence of a second autumnal infection, and its importance relative to the Spring infection, requires ongoing monitoring and is something farmers should be aware of. Clearly, signs of scour in the autumn would not necessarily alert farmers to the possibility of N. battus infection and they would most likely be using MLs, not BZs, because of the need to treat other nematode species (at that time). Consequently, accurate diagnosis of N. battus at this time is essential, as is better education of farmers to be more aware of an autumnal infection.
If appropriate measures are put in place, AR should not develop in Nematodirus spp. to the same extent as already reported for Trichostrongylus spp. and T. circumcincta in NI [7]. While Nematodirus spp. may not be seen to be as significant as these species, its successful control is still of great importance to the health of young lambs in the flock.
Finally, while the present communication completes the overview of ovine helminth disease in NI, it contributes to a greater all-island of Ireland perspective on disease control in Ireland. The data may help to inform the design and implementation of future management programmes.
Abbreviations
AAD:

Amino-acetonitrile derivative
AFBI:

Agri-Food and Biosciences Institute
AR:

Anthelmintic resistance
AVM:

Avermectin
BZ:

Benzimidazole
CAFRE:

College of Agriculture, Food and Rural Enterprise
DAERA:

Department of Agriculture, Environment and Rural Affairs
DAFM:

Department of Agriculture, Food and the Marine
FEC:

Faecal Egg Count
FECRT:

Faecal Egg Count Reduction Test
GVA:

Gross added value
LV:

Levamisole
MAFF:

Ministry of Agriculture, Fisheries and Food
ML:

Macrocyclic lactone
MOX:

Moxidectin
NADIS:

National Animal Disease Information Service
NI:

Northern Ireland
NIFDA:

Northern Ireland Food and Drink Association
NOAH:

National Office of Animal Health
PGE:

Parasitic gastroenteritis
pt.:

Post-treatment
ROI:

Republic of Ireland
SAC:

Scottish Agricultural College
SCOPS:

Sustainable Control of Parasites in Sheep
SNP:

Single nucleotide polymorphism
UK:

United Kingdom
VSD:

Veterinary Sciences Division
WAAVP:

World Association for the Advancement of Veterinary Parasitology
Declarations
Acknowledgements
We wish to thank Robert Walker and David McCoubrey (AFBI) who helped disseminate the questionnaire, Mary Devlin and Jennie Finlay from the School of Biological Sciences, QUB, Don Morrow and Steven Johnston, from the College of Agriculture, Food and Rural Enterprise (CAFRE), William Sherrard formerly at Pfizer, and all the farmers who participated in the survey, without whom this work would not have been possible.
Availability of data and materials
The datasets used and analysed during the current study are available in the PhD Thesis of Connor McMahon, held in the Library of The Queen's University of Belfast.
McMahon, C. 2015. Anthelmintic resistance in parasites of sheep in Northern Ireland and the strategic control of parasitic diseases.
Authors' contributions
CM, HE, RH and IF contributed to study design and the analysis and interpretation of data. CM, RH, GB and IF were involved in drafting the manuscript. CM, JB, RH and IF gave final approval of the version to be published. CM, RH and IF agreed to be accountable for all aspects of the work. All authors read and approved the final manuscript.
Ethics approval and consent to participate
Not applicable
Consent for publication
Not applicable
Competing interests
The authors declare that they have no competing interests.
Publisher's Note
Springer Nature remains neutral with regard to jurisdictional claims in published maps and institutional affiliations.
Open AccessThis article is distributed under the terms of the Creative Commons Attribution 4.0 International License (http://creativecommons.org/licenses/by/4.0/), which permits unrestricted use, distribution, and reproduction in any medium, provided you give appropriate credit to the original author(s) and the source, provide a link to the Creative Commons license, and indicate if changes were made. The Creative Commons Public Domain Dedication waiver (http://creativecommons.org/publicdomain/zero/1.0/) applies to the data made available in this article, unless otherwise stated.
Authors' Affiliations
(1)
Parasite Therapeutics Research Group, School of Biological Sciences, Medical Biology Centre, The Queen's University of Belfast, Belfast, UK
(2)
Veterinary Sciences Division, Agri-Food and Biosciences Institute (AFBI) Stormont, Belfast, UK