Temporal trends in reproductive performance in Irish dairy herds and associated risk factors
Irish Veterinary Journal
The official journal of Veterinary Ireland, the representative body for the veterinary profession in Ireland
2004
57:158
Abstract
Irish dairy herd fertility has been declining since the 1980s. The extent, nature and causes of this decline in fertility and the current status of Irish dairy herd fertility were described. An increase in calving interval of approximately one day per year has been recorded. The principal components of this trend have been an increased incidence of postpartum endocrinopathies, reduced expression of oestrus and a fall in conception rate. Both submission rate and calving-to-service interval have increased slightly over time. Significant risk factors associated with these trends have been strain substitution within the Holstein-Friesian breed and single trait selection for milk production. Critically, these changes have been reflected in loss of body condition. Contributory factors included increased herd size and possibly increased use of DIYAI. The most recent Irish study showed that 48% of cows conceived to first service and 14% of cows were not pregnant at the end of the industry-average 15-week spring breeding season. However, the top quartile of herds achieved a first-service conception rate of 59%, illustrating the wide variation between herds. These phenotypic trends were attributed to both genetic and environmental factors and their interactions. Recent Irish dairy herd fertility performance falls short of the targets set for seasonal compact calving.
Keywords
CattleFertilityGeneticsNutritionManagement
Introduction
Efficient milk production in Irish dairy herds is dependent upon producing the maximum amount of milk from grazed grass. To co-ordinate peak milk yield with maximum grass growth, cows must calve compactly before turn-out to pasture in the spring. Irish dairy farmers aim to get the maximum number of cows pregnant in a short breeding season and in the past have done so successfully. However, in recent years, changes in our farming systems have led to a decline in dairy herd fertility.
Materials and methods
Reproductive performance is defined here by the standard phenotypic indices of herd fertility [50] and culling. The limitations of any one of these indices to adequately describe herd fertility, the influences of both genetic and environmental factors and the biases of management decisions and inadvertent data censoring are recognised. Thus, while calving interval data are readily available from milk records, they are only available for cows that conceive and calve again. The Irish data examined here originated in commercial dairy herds and in An Foras Talúntais and Teagasc research herds. Research herd data came from experimental studies and retrospective analyses of herd fertility databases. Commercial herd data were generated from computerised herd datasets (DairyMIS, a recorder-based computerised data management system, and the National Farm Survey), milk recording schemes, experimental field studies and questionnaire surveys. These sources do not constitute a standardised recording of data from a representative sample of the national herd. Rather, the fragmented nature of these data sources reflects the absence of a national database on herd fertility.
Relationships between variables were examined by least squares regression analysis and the results presented graphically in MS Excel™ (Microsoft Corporation, 1997). The best-fit trend line was chosen from sixth order polynomial regressions as having the highest coefficient of determination (R2).
Conclusions
In Ireland, dairy herd fertility has declined over the past twenty years. The primary components of this decline have been a lower conception rate and an increased calving interval. These phenotypic trends can be attributed to both genetic and environmental factors and their interactions. Currently, dairy herd fertility falls short of the targets set for seasonal compact calving.
Erratum
In the March issue of the
Irish Veterinary Journal
, there was an error in Figure 3 in the peer-reviewed article "Temporal trends in reproductive performance in Irish dairy herds and associated risk factors" (57: p161). The upwardly mobile line, which refers to Friesian, should be red, including the diamonds. The plunging graph, which refers to Shorthorn, should be blue, including the squares.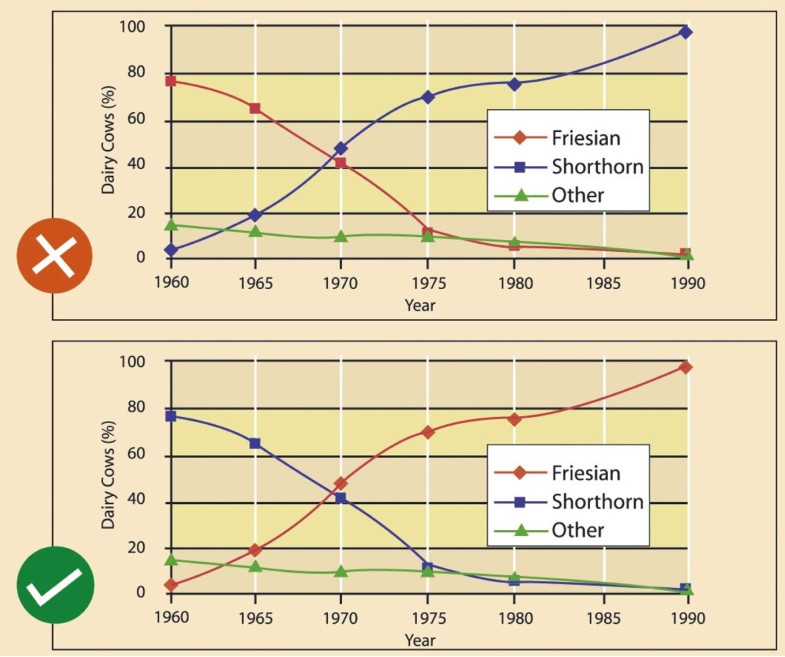 Authors' Affiliations
(1)
Teagasc, Dairy Production Research Department, Dairy Production Research Centre, Moorepark, Fermoy, Ireland