Bulk milk ELISA and the diagnosis of parasite infections in dairy herds: a review
Irish Veterinary Journal
The official journal of Veterinary Ireland, the representative body for the veterinary profession in Ireland
2013
66:14
Received: 25 April 2013
Accepted: 27 June 2013
Published: 25 July 2013
Abstract
The bulk milk enzyme-linked immune sorbent assay (ELISA) is a rapid and inexpensive method of assessing herd exposure to pathogens that is increasingly being used for the diagnosis of parasite infections in dairy herds. In this paper, with the dairy herd health veterinarian in mind, we review the principles of the assay and the recent literature on the potential role of bulk milk ELISA for the diagnosis of ostertagiosis, fasciolosis, parasitic bronchitis due to cattle lung worm and neosporosis. It is generally accepted that assay results reflect exposure to the parasite rather than the presence of active infection. Bulk milk ELISA can be a useful tool for the veterinary practitioner as a component of a herd health monitoring programme or in the context of a herd health investigation. It can also play a role in regional or national surveillance programmes. However, the results need to be interpreted within the context of the herd-specific health management, the milk production pattern and the parasite life cycle.
Keywords
Bulk milk ELISADairy herdsParasite infectionsOstertagiaFasciolaDictyocaulusNeospora
Introduction
This review paper emerged from discussions within the Animal Health Ireland (AHI) Technical Working Group for Parasite Control which identified a need to seek as much scientific clarity as possible in relation to the usefulness of bulk milk testing for parasite infections within the Irish dairy herd. AHI is an industry-led, not-for-profit partnership between livestock producers, processors, animal health advisers and government, with a remit encompassing diseases and conditions of rrlivestock that are endemic in Ireland but which are not currently subject to regulation [1]. Work programmes have been built on the animal health priority areas [2] including parasite control and biosecurity. At the core of each work programme is a Technical Working Group (TWG), or group of experts in the relevant fields. In keeping with the principle of maintaining standards of scientific excellence, the outputs of the working groups are subjected to peer-review and, where possible, published in international peer-reviewed journals.
The enzyme-linked immune sorbent assay (ELISA) is an immune assay which relies on the detection of host antibody as an indicator of infection. Once it has been developed for the analysis of individual serum samples it is frequently applied to individual and bulk milk analysis. In general terms, bulk milk ELISA is an attractive option for monitoring or establishing infection status in dairy herd health management as it provides an automated, rapid and relatively inexpensive method of assessing herd-level status with regard to various pathogens including Bovine Viral Diarrhoea Virus (BVDV), Infectious Bovine Rhinotracheitis (IBR), Salmonella and parasites [3–6].
Conclusions and future prospects
Dairy herd health management involves establishing and maintaining optimal animal health and productivity. The basic steps in delivery and execution of herd health management are cyclical. Initially farm goals and targets are defined, then herd performance in key areas is monitored and compared to agreed targets. Where shortfalls are identified, investigative protocols are employed to identify the cause and appropriate control strategies implemented. The effects of these controls on farm performance are monitored and thus the cycle begins again (Figure
1
) [
82
]. This concept is central to all aspects of herd health management including parasite control. A dairy herd parasite control programme must be tailored for the individual farm taking animal health and production, farm-specific management, grazing history and seasonal conditions into consideration.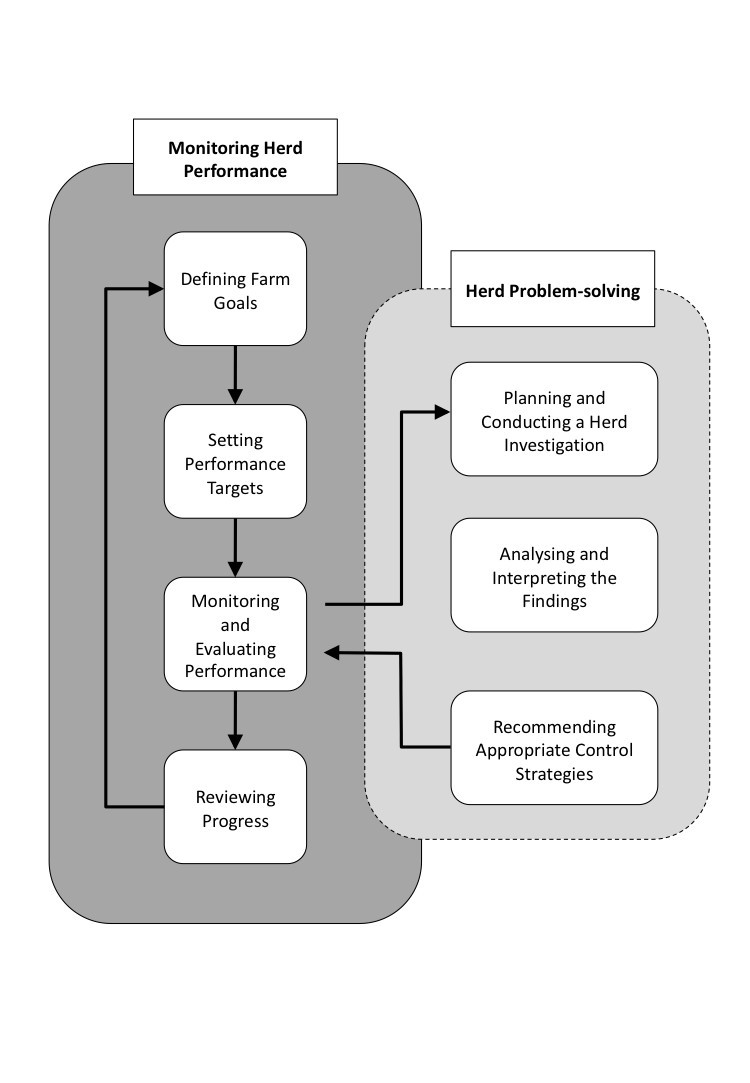 It is clear that bulk milk testing has a potential role in both the monitoring and investigative aspects of the herd health management cycle (Figure 1). However, its role needs to be seen in the context of the other key components of optimal parasite management in the dairy herd such as those outlined by the parasite control TWG/AHI [83].
Thus, the data from regular (at least 3–4 times/year depending on the calving pattern) bulk milk screening needs to assessed in the context of the other key components of parasite control including risk-based assessment of pasture contamination, judicious use of faecal testing as well as follow-up inspection of tissue (liver, lung, abomasum etc.) at post-mortem examination as well as in the context of abattoir surveillance. The bulk milk data could be viewed as one of the tools in the kit of the dairy herd veterinarian to facilitate decision-making at farm level.
Ostertagiosis makes its greatest economic impact (clinical and subclinical disease) in the context of first and second-grazing season calves and the decision to treat adult cows to improve milk yield must always be based on a proper cost-benefit analysis, whilst taking issues of anthelmintic resistance into consideration [84]. A bulk milk test for O. ostertagi antibodies at the end of a grazing season in the adult herd may assist the planning of worm control strategies for replacement heifers in the next season [85]. Thus, a test with a low titre at the end of the grazing season in the adult herd may indicate that exposure of first-grazing season animals that year was not sufficient to stimulate adequate immunity going into the second season.
Bulk milk monitoring is used to detect infections that are subclinical, yet result in increased costs to the herd owner primarily in terms of decreased milk yield and potentially, to a lesser extent, cattle weight gain, milk quality and reproductive fitness [22]. It is an effective diagnostic indicator of exposure to moderate to high levels of parasitic infections and can provide an indication of intensity of infection in the herd in endemic situations [23, 33]. Finally, it has been investigated as an indicator for the effectiveness of parasiticide prophylaxis or treatment [22], bearing in mind, however, that antibody titres can remain high after treatment and that in these situations information provided by bulk milk testing needs to be considered carefully. As such bulk milk testing can inform cost-benefit analysis and treatment decisions. An added advantage of bulk milk testing is that the same samples that are already routinely collected by the dairy industry for milk quality testing can be used.
The application of bulk milk ELISA as a predictive tool for risks associated with parasite infection is still at an early stage, the extent of research findings varies with the parasite species in question. For O. ostertagi, liver fluke and lungworm, the risk of acquiring the parasite is linked to grazing on contaminated pasture. Bulk milk assay will give a good indication of current exposure if employed as part of an ongoing herd health surveillance programme. On the other hand, data from less frequent testing may be difficult to interpret as anti-parasite antibodies can persist for a long time post treatment (depending on assay). Available prevalence data from Ireland indicate that any herd on pasture is at risk of acquiring infection. The question then becomes: How severe is the herd level infection?
For O. ostertagi, bulk milk assay can be effective in providing thresholds that may be converted to predicted milk loss per cow per day [19]. For liver fluke, the risk is highly dependent on the environment and is linked to grazing on contaminated pasture. For lungworm, there is an advantage of knowing levels of exposure and how this might contribute to respiratory disease incidence. For Neospora, high levels of bulk milk antibodies may contribute to greater risk of abortion [23] and would indicate that Neospora should be considered as a cause in unusual patterns of abortion.
Bulk milk results contribute to building risk assessment models. An active area of research is the development of software models for the risk for infection and disease spread with a GIS based system, using prevalence data based on bulk milk assay in combination with other environmental factors including weather data and soil conditions [28, 86, 87]. One such programme is ParaCalc®, a spread-sheet model that calculates the effects of infections on production and the cost of the production losses, based on diagnostic assays of herd health and anthelmintic usage. The programme was tested during a study of Belgian dairy herds [88]. The results indicated an estimated median cost of infection with gastrointestinal nematodes of €46 per cow per year, with a much lower estimated cost of €6 for liver fluke. The most significant factor was reduced milk production in infected cows.
Integration of bulk milk assay results and other clinical findings in an easy to use application would be a tremendous advantage for both farmers and herd health management professionals. Future developments in bulk milk assay will likely include multiplexing platforms that facilitate the assay of several parasitic infections at one time and point-of-care or pen-side tests that provide an immediate result for the herd.
The bulk milk ELISA can be a useful tool for the veterinary practitioner as a component of a herd health monitoring programme or in the context of a herd health investigation. However, the results of bulk milk testing for gutworm, liver fluke and lungworm simple indicate the presence (or absence) of antibodies from prior or current exposure and do not necessarily indicate active infection or disease. Therefore, like all diagnostic tests, antibodies in bulk milk should be assessed with reference to the holistic herd health picture and not used as the only discriminator in the decision-making process with regards to both potential economic losses and response to treatment.
Declarations
Acknowledgements
Support from Animal Health Ireland and the Technical Working Group for parasite control for Animal Health Ireland.
Authors' Affiliations
(1)
UCD School of Veterinary Medicine, University College Dublin, Belfield, Ireland
Copyright
© Sekiya et al.; licensee BioMed Central Ltd. 2013
This article is published under license to BioMed Central Ltd. This is an Open Access article distributed under the terms of the Creative Commons Attribution License (http://creativecommons.org/licenses/by/2.0), which permits unrestricted use, distribution, and reproduction in any medium, provided the original work is properly cited.